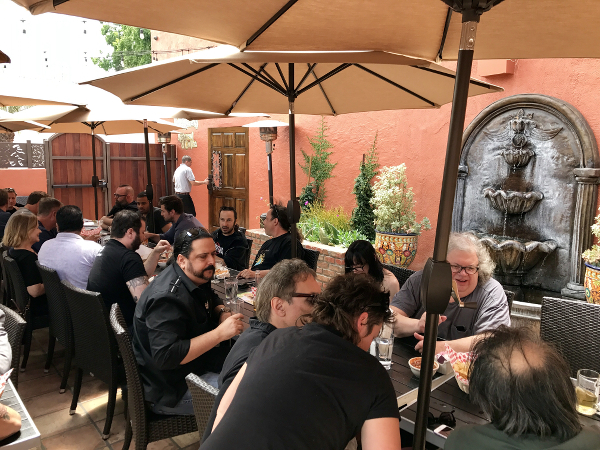 All is right again in the StarChamber Lunch world, as this week our old haunts (the PATIO) were made available to us again...and the weather was perfect (how often does one say THAT in SoCal?)! And the word that Al Fresco would be attending brought back some friends who stayed away last week.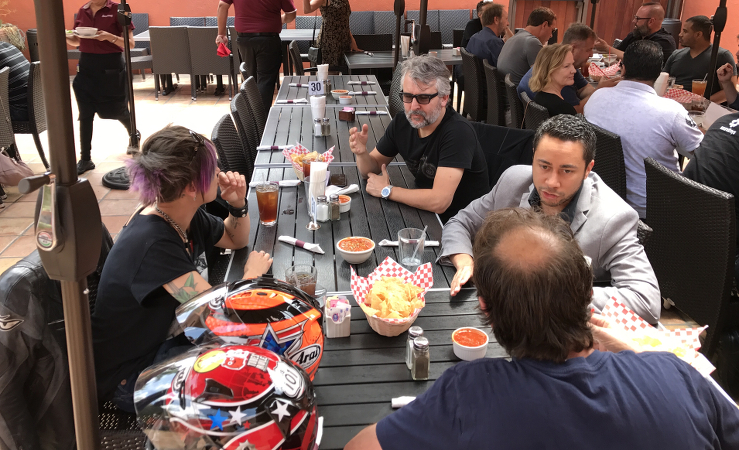 A fairly new-to-me friend (we met in January at CES in Vegas),
Gebre Waddell
stopped by before meeting with our comrades Dave Pensado & Herb Trawick (
Pensado's Place
) where he will be a guest on an upcoming show. Gebre hails from Memphis (cue Chuck Berry!) where he is an accomplished mastering engineer and brainchild of Soundways (who make some fascinating mastering software) and chairman of the Audio Engineering Society's Memphis Section.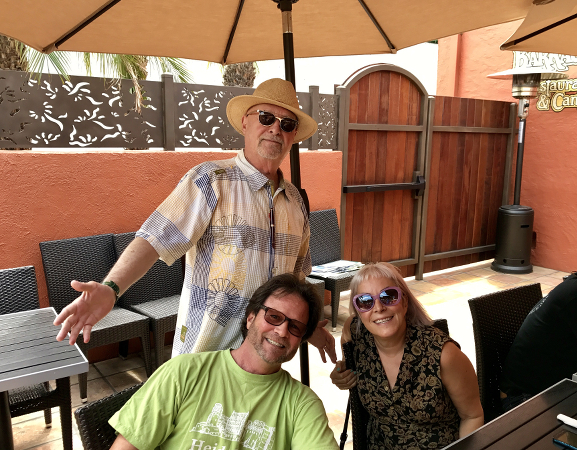 Another Lunch Bunch 'virgin', was L.A.'s great mastering engineer - and handsome devil,
Gavin Lurssen
, who found some good company today, as always! Likewise first-timer John Musgrave. John has some serious studio history here in town, having worked at many of the greats (Conway, Capitol, et al) - but is renowned for his prowess for rebuilding analog recording consoles. A good man to know!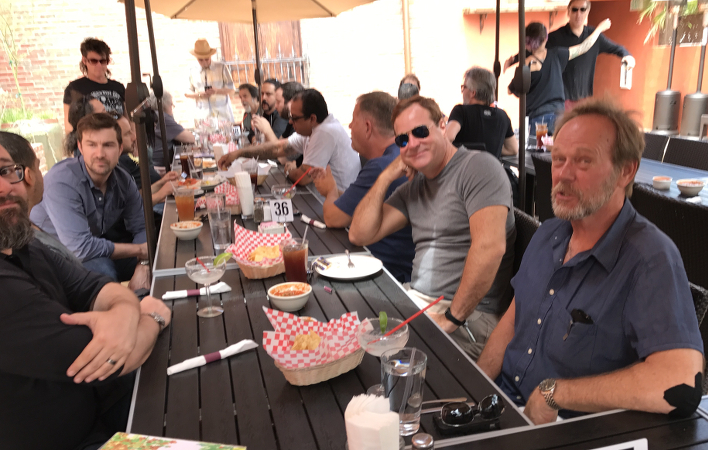 While it's not part of the 'program' per se, I find it so interesting to sit next to different folks each week! You think you know something about someone, but really you don't...unless and until you've shared a taco and an adult beverage together. Today I sat with
Mr. Bonzai
who is totally worth the price of admission hisself (!) and hitmaker-mixer
Mick Guzauski
. Case in point, Mick and I graduated from the same friggin' High School - a year apart - and never met!
The good guys at
United Recording
showed up en masse today, and great to have them join in! Studio managers Rob Goodchild and Justin Fisher coerced archivist extraordinaire Dan Johnson to come see what all the fuss is about. Exciting times over there as the legendary studio gets reborn.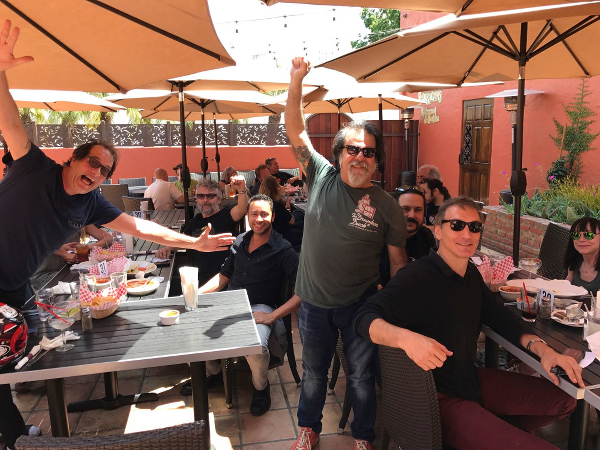 ANOTHER great first-time visitor:
Moogie Canazio
who was celebrating (Brazilians are always celebrating!) the birth of his grandson and spread the love all around. He left us with a story about how his nickname "
Moogie
" came to be. "They said I would go way too heavy on the bass in my mixes. '
Hey, Moogie - back off that Moog, man
'!"
What a great group we had, including EveAnna Manley, Shannon Deane, Jeri Palumbo and her squeeze Erik "Zobe" Zobler, Maor Appelbaum, JJ Blair, Randy Aronson, Jane Scobie, Phil MacConnell, Jeff Bork, Mike Wolf, Eric Betelli (he of Music Connection magazine), Ann Vicari (LAFX), Peter Doell, and Bill Smith!
Today's Starchamber Audio Lunch Bunch!
— with Shannon Deane,
EveAnna Manley
, Gebre Waddell, Gavin Lurssen, John Musgrave, Mick Guzauski, Rob Goodchild, Justin Fisher, Dan Johnson, Moogie Canazio, Jeri Palumbo, Erik "Zobe" Zobler,
Maor Appelbaum
, JJ Blair, Randy Aronson, Jane Scobie, Phil MacConnell, Jeff Bork, Mike Wolf, Eric Betelli, Ann Vicari, Peter Doell, and

Bill Smith

!
at an undisclosed location in sunny Burbank, CA.
Who are the people attending the Starchamber Audio Lunch?
Only some of the most esteemed music-industry heroes to grace planet earth.
Recording Engineers
Record Producers
Gear Designers & Manufacturers
Tech Wizards
Studio Managers
Session Musicians
teaser
You can also enjoy the Podcast of Inside the Starchamber's pilot episode featuring EastWest Studios Candace Stewart and Breath of Life Records Tony Shepperd.